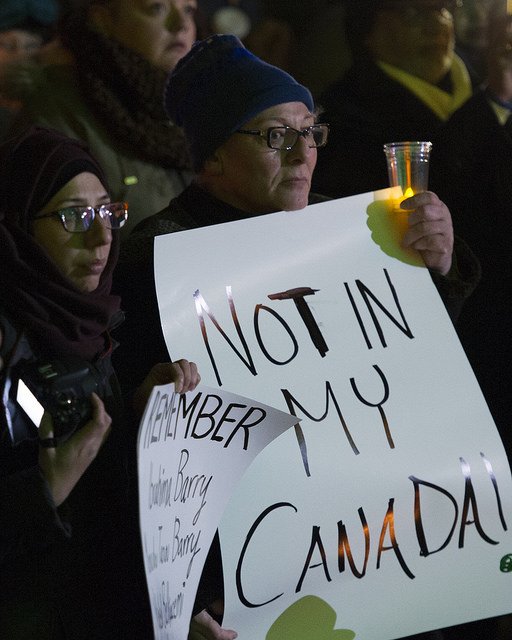 Photo by Chris Schwarz/Government of Alberta
"Darkness cannot drive out darkness; only light can do that."
-Martin Luther King.
On a quiet Sunday evening at a local mosque, a terrible attack shook the Quebec City suburb of Sainte-Foy when Alexandre Bissonnette senselessly murdered 6 people and injured 19. The mosque shooting, motivated by hate and ignorance, has been dubbed one the worst attacks in Canadian history.
Exactly two years later, the attack has produced an outpour of love and support from Canadians across the country.
Of the many stories of support, there is one in particular that strikes me. In Pickering, Ontario, Ryan Slobojan took his young daughter Elizabeth to a local mosque the day after the attack along with a sign that said 'Free Hugs'. It was their first time in a mosque, and they had never met anyone there before that day, but their act was greeted with kindness and warmth by all who they met and hugged. From that initial step, Ryan founded an initiative called Push Back the Darkness, in commemoration of the victims of the Quebec Mosque Attack and as a sign of commitment to "push back the darkness" of ignorance and hate in Canada. The initiative has also helped to support the organizing of vigils in cities across Canada.
I had a chance to visit the Quebec Islamic Cultural Centre after the attack, and was welcomed warmly. Even after what had been perpetrated against them, they opened their doors to people of all religions and embraced strangers into their community.
The Quebec Islamic Cultural Centre proves to be a source of love, affection, peace and brotherhood for all people irrespective of whether their Muslim or not. With messages of compassion for all mankind, the community is an embodiment of the benevolent message of Islam—peace, universal brotherhood, and submission to the Will of God—in its pristine purity.
When we take the time to get to know our neighbours, and build with them the bonds of friendship, we strengthen our communities and ensure that the ignorance and hate which struck on January 29th 2017 will have no space to take hold.
We must never forget the high cost of complacency, and the need to take action to ensure that Canada remains the shared, diverse, and welcoming place we all want it to be. Anti-Muslim Rhetoric has violent consequences every day and that is why I am proud to work alongside my fellow Canadians to push back the darkness of ignorance and hate with the light of knowledge and friendship.
Our words will not be enough; Let us come together to support one another through our actions, and ensure that the world which we leave to our children is a more tolerant and accepting the world we have today.