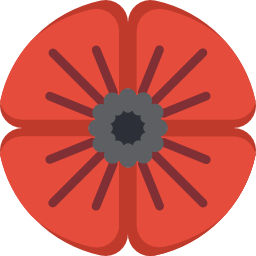 Today, on November 11, Canadians honour the women and men who have fought and fallen for our great country.
Remembrance Day first began in 1919, following the end of the First World War on November 11, 1918. Over 66,000 Canadian men and women were killed in WWI fighting for the freedom that we enjoy today, and another 172,000 were wounded – approximately 138,000 of those were classified as battle casualties.
During the Second World War from 1939-1947, more than 44,000 Canadian men and women lost their lives.
Canada's longest war, the Afghanistan war, saw the loss of 158 Canadian lives from 2001-2014.
Women have had an active role in wars that Canada has participated in. During the First World War women served crucial roles in nursing and munitions manufacturing.
In July 1941, during the Second World War, the federal cabinet authorized the formation of the first women's service – the Canadian Women's Auxiliary Air Force (CWAAF). The order-in-council authorized:
"the formation of a component of the Royal Canadian Air Force to be known as the Canadian Women's Auxiliary Air Force, its function being to release to heavier duties those members of the RCAF employed in administrative, clerical and other comparable types of service employment."
A month later, in August 1941 due to a shortage of personnel, the Canadian Women's Army Corps (CWAC) was created.
Mrs. Joan Kennedy of Victoria, British Columbia, was the founding and driving force behind the creation of the CWAC. She had recognized for years that a shortage of personnel would mean that women would need to step up for their country and she was prepared to make whatever sacrifice necessary.
A couple of years earlier in 1939, out of a growing threat of war, she sought out like-minded women to form the British Columbia Women's Service Corps (BCWSC). The BCWSC, without any support from the government, created their own uniforms and trained themselves with the skills they thought they would need for war. Mrs. Kennedy's courage and leadership would inspire the creation of many similar groups across Canada.
A third women's military corps, the Women's Royal Canadian Naval Service (WRCNS or "Wrens") was created in 1942.  By the end of WWII, nearly 7000 women had served with the WRCNS in 39 different trades. The Wrens are remembered most notably for staffing the operational map plots in command headquarters, and for taking on the majority of duties at the naval signals intelligence sites on both coasts.
Women have and continue to play a crucial role in times of need.
Remembrance Day is about remembering and paying tribute to all of those who have made personal sacrifices so that we can enjoy the freedoms that we have today. We have both men and women to thank for this, who valiantly fought for our freedoms.
Lest we forget.