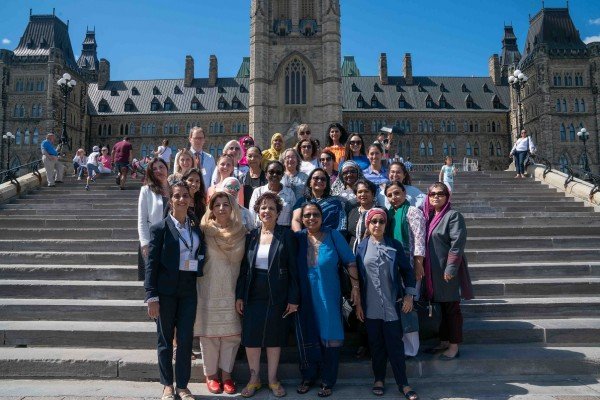 Today, on International Women's Day, we all come together and celebrate the economic, political and social achievements of women around the world. On this day, we take time to honour women who have made their mark and worked hard to set in stone the progress of women. We are reminded of those who struggled over the decades to bring us to where we are today and spend some time to reflect on how far women have come after over a century of relentless efforts.
Canada is celebrating the day with recognizing "grassroots efforts to advance gender equality in communities across the country and honouring Canadians who are finding powerful ways, both big and small, to drive positive change right at the source". Launching the campaign #BecauseOfYou to shine the light on, and pay tribute to, those who changed our world.
But all the battles have not been won for women. It is true that women have greater equality, greater recognition, and an increased visibility as role models. Women are leading companies, leading countries, and are present in parliaments and board rooms but the struggle is still on to realize their rights in full. The unfortunate fact is that women are still struggling. 1 in 10 young women today are still unable to read and write. Three quarters of all parliamentarians in the world are men. Negotiators at peace processes are mostly men. 650 million women and girls in the world today were married before age 18. At least 200 million women and girls aged 15-49 have undergone female genital mutilation. Women are still not paid equally to their male counterparts and their presence in business and politics is also unequal to men.
The United Nation Women's theme this year is #GenerationEquality, and it is a pertinent issue in today's world. Full equality is yet to be achieved, and as UN Women's Executive Director Phumzile Mlambo-Ngcuka said, "We are impatient" for the change. It has been 25 years since the Beijing Declaration on the Status of Women, 20 years since the United Nations Security Council Resolution 1325 on Women, Peace and Security. Yet until this day, not one country can claim to have achieved full gender equality.
It is time to make the shift. #BecauseOfYou sheds light on the achievements we made till now, and #GenerationEquality pushes for forward action. With the women standing behind these initiatives and those supporting and working hard to make the change, I do believe the shift is within our reach.
Happy Women's Day!