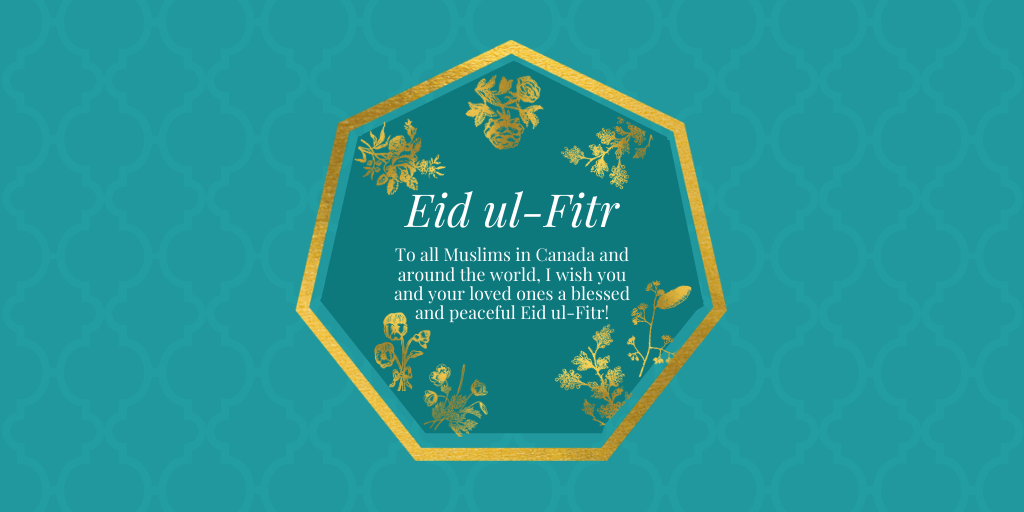 Muslims in Canada and around the world have been observing the holy month of Ramadan: a time of worship, contemplation, and reflection on the need to better understand the faith of Islam. Ramadan is the ninth month of the Muslim calendar. The month of Ramadan is also when it is believed the Holy Quran "was sent down from heaven, a guidance unto men, a declaration of direction, and a means of Salvation."
This week, 1.5 billion Muslims all over the world will celebrate Eid ul-Fitr, the "Festival of Breaking the Fast." which marks the end of Ramadan. It is a joyous period when men and women show appreciation for their health, strength, and opportunities of life that Allah has given to them. It is also a period during which Muslims recommit themselves to ethical principles central to the practice of Islam which include sharing, caring, generosity, and service to others.
Ramadan this year is unlike any we have experienced in recent history. The Covid-19 global pandemic has changed how we will observe this important time:
We will not be gathering in Mosques, Jamatkhanas, Masjids – but this does not prevent us from praying at home as we have been.
We will not be celebrating Eid with most of our children and families – While we will not be meeting physically, our loved ones will remain in our hearts, thoughts, and prayers.
We will not be going out to malls to shop for gifts or meeting up to prepare a big meal together – However, this does not stop us from using technology like video conferencing to share a meal together virtually.
This time has given us the opportunity to appreciate the importance of taking care of one another and not taking even the most basic freedoms for granted. Too often we get caught up in our lives, always on the run, without taking time to stop and self-reflect and appreciate the things that are important. It is an opportunity to share with our loved ones, care for neighbors, and serve our communities.
If we use this time as an opportunity, we will be in a better place when return.
We may be separated from each other physically, but we are still connected to each other spiritually. From my family to yours, Eid Mubarak!